SITE SPECTACLE SEED SPROUT



SITE SPECTACLE SEED SPROUT starts from the field condition of abandoned houses and empty lots interspersed with inhabited homes that characterizes many Detroit neighborhoods. We contend that these scattered "voids" are not vacuums, but a collection of resources ready to be reused—first: space, empty or available; second: material, in various degrees of re-usefulness and salvageability; third: potential energy, the first two combined with the energy of existing community and momentum towards a new future. Similar to the way a log cabin is built from the trees around it, or the way the ecology of that same forest repurposes decaying elements as fertilizer for new growth, we believe that an act of subtraction is merely a reorganization of matter, and that the future of the city can be seeded from materials already existing in the city.


Site: Detroit
Demolition, of course, is not a new phenomenon in Detroit. The population has been shrinking since 1950, causing widespread urban decay that the city is incapable of keeping up with. Through the Hardest Hit Fund, Detroit received $52.3M in 2010 and an additional $21.25M this past October towards the demolition of publicly owned vacant residential structures1. At current rates, this influx of money will demolish approximately 1,300 houses for about $16,000 apiece. But in the neighborhood of LaSalle Gardens alone, Motor City Mapping lists 1,069 structures as abandoned2, and the city's current demolition technique often just results in yet another unkempt, dumped-on lot.




Clearly, a systematic approach to unbuilding and a more thoughtful consideration of the material remainder is needed. LaSalle Gardens, just north of Midtown and bordering on the imminent adaptive reuse of the Herman Kiefer Hospital, is the perfect testbed for our ideas.

On top of all this, civic services have experienced severe decline since the 2013 bankruptcy. According to the Detroit Water Brigade, 40% of the city is having its water shut off due to unpaid bills, and many have resorted to collecting gray water for day to day needs3. The government has been championing right-sizing plans since 2010 in an effort to shrink the urban footprint to a manageable size.





Site: The House
A multitude of houses in Lasalle Gardens and similar neighborhoods are wood framed, brick or wood clad structures based on the American Foursquare4, a plan popularized throughout the country due to its ample square footage and convenient mass production through catalogs such as Sears and Roebuck, Co. and Montgomery Ward. The two and a half story box-type shape, plus a basement, is topped with a hipped roof and dormers and completed by a front porch that spans across part or all of the front facade. In a single family house, the first floor includes a dining room, den, living room, and large kitchen, while the second floor contains four bedrooms and an attic provides additional rooms or storage. In a two-family house, the plan is expanded to create full apartments on each floor. The fact that the majority of the aforementioned abandoned houses follow almost identical plans allows us to create a systematic deconstruction approach for each seed typology that can be applied, with only minor changes, to multiple houses across the city.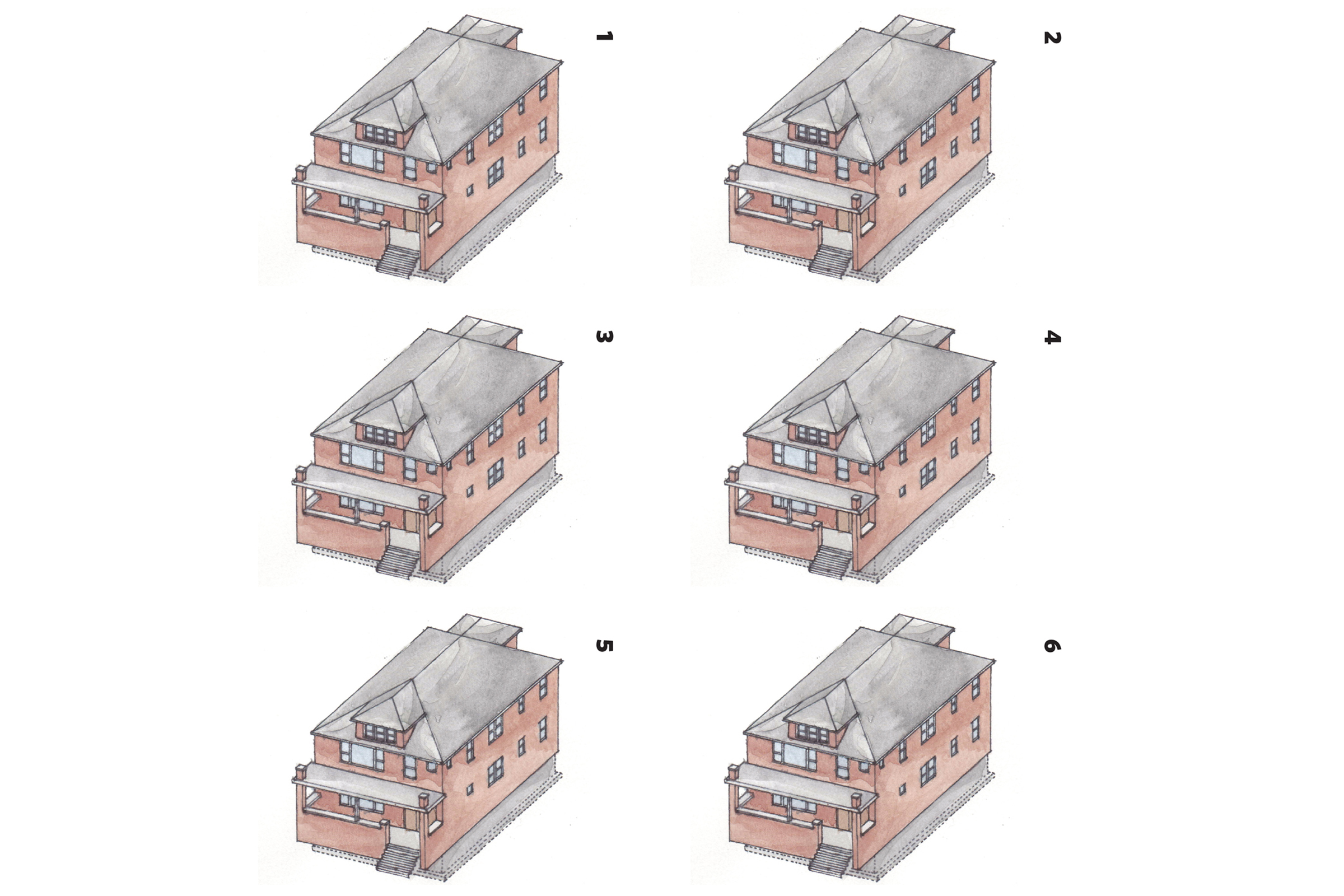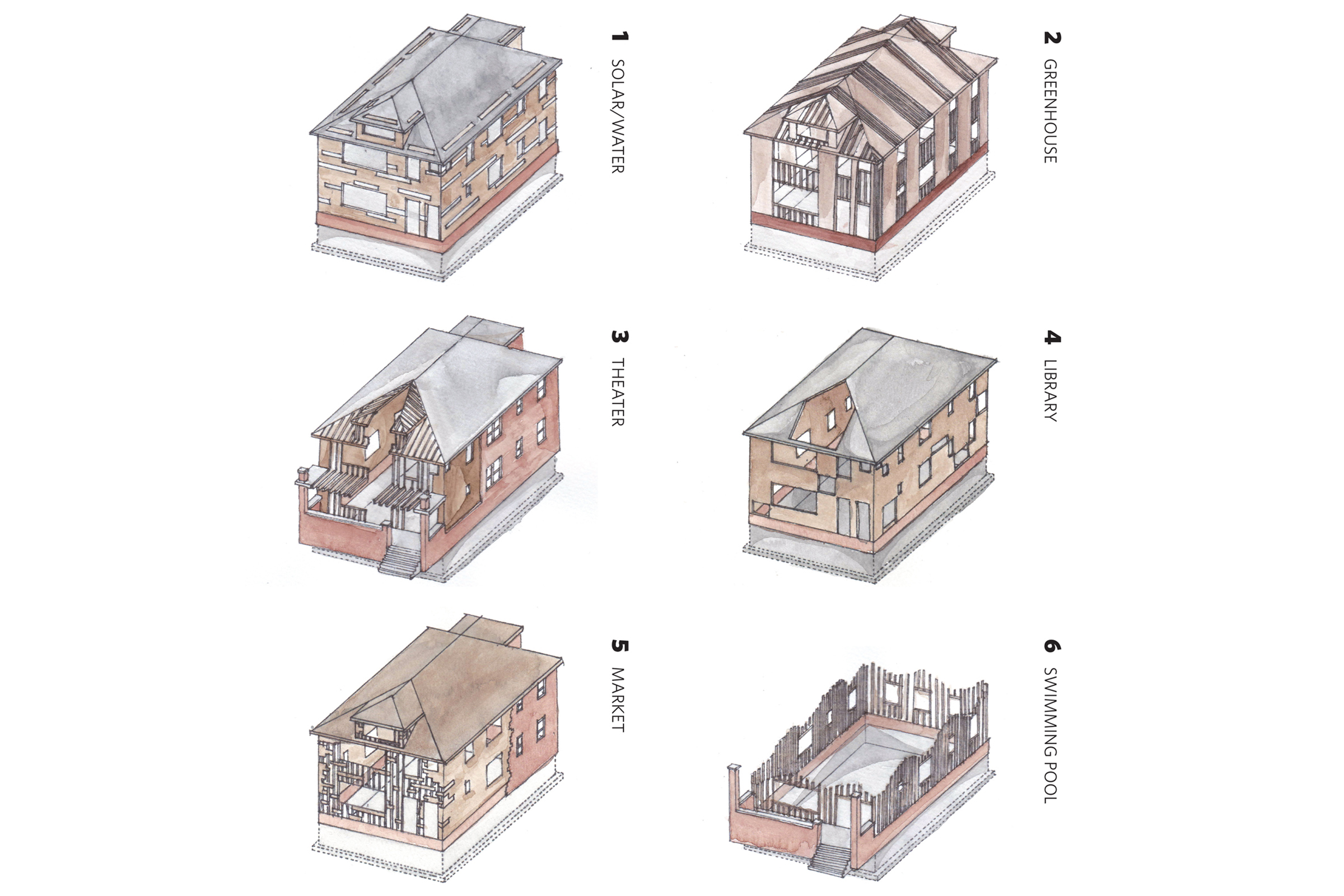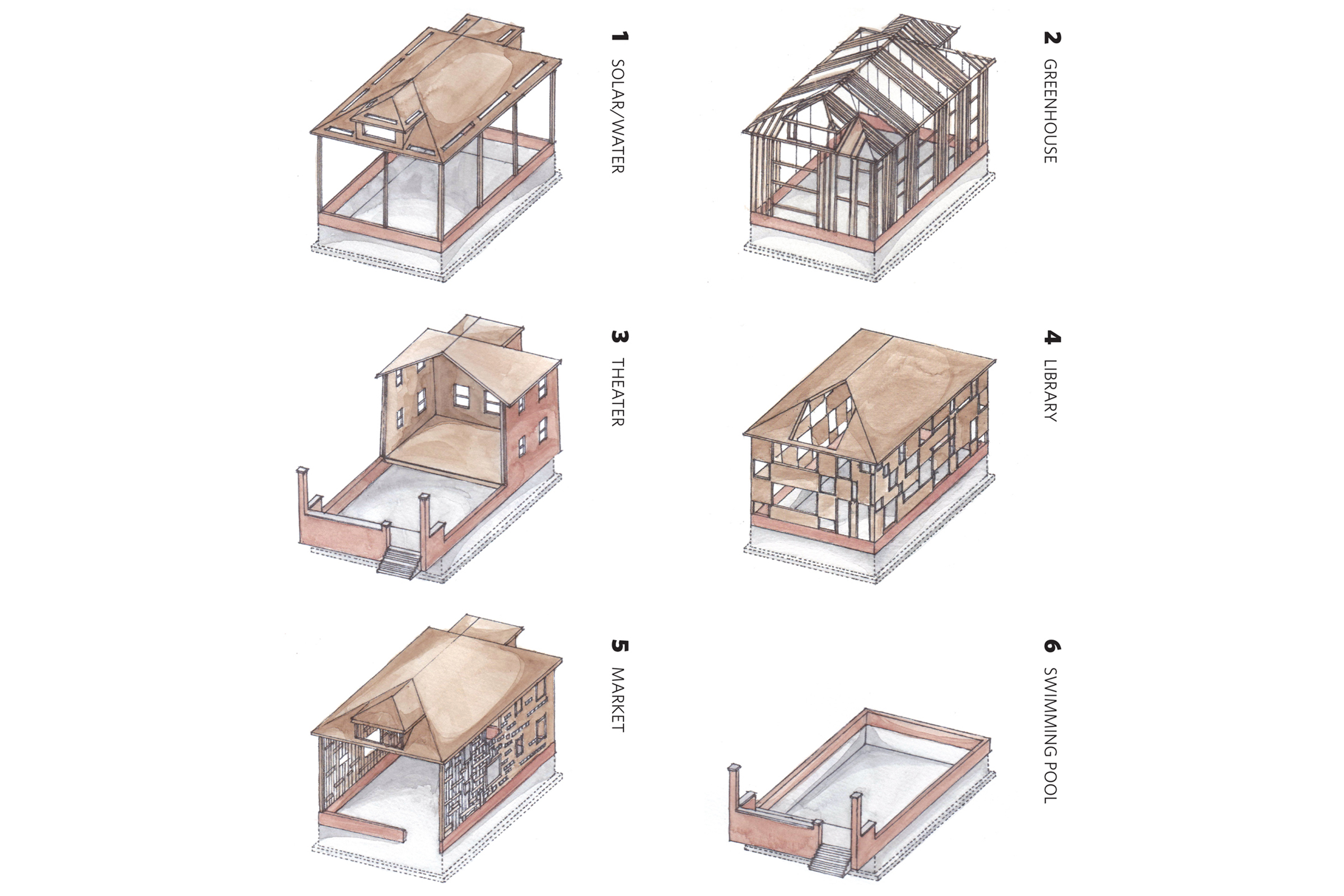 Process
The proposed deconstruction is a continuum from site to spectacle to seed from which the new city will sprout. Throughout the process, SITE SPECTACLE SEED SPROUT transforms a labor usually taboo and hidden into a scattering of house-shaped luminaires. During its deconstruction, each house is lit from within, highlighting and glorifying the process of the city's metamorphosis. The spectacle is an ephemeral nod to the past, an acknowledgment which retains a physical memory of the community's history while providing infrastructural and social progress for its inhabitants.

Through a scattering of seeds, the proposal aims towards sustainable a self sufficiency and a dispersed network of urban activity that can maintain the city's current size as viable. Though SITE SPECTACLE SEED SPROUT is specifically designed with Lasalle Gardens and Detroit in mind, we believe that a similar undertaking could be used to revitalize shrinking cities across the United States.

Methodology
Traditional development models involve local residents only as fodder for planning charettes while actual decision making is done from the top down. SITE SPECTACLE SEED SPROUT proposes instead to put the city's renaissance directly in the hands of the community. The project takes form as a manual for community enfranchisement, as a series of instructional documents straddling the line between IKEA and Sol LeWitt that give neighborhoods the tools to build their own futures.

The project is orchestrated simultaneously across the city, with civic facilitation of individual efforts. Six seed typologies—ranging from social to sustainable to entrepreneurial—each contain a specific unbuilding process and resultant form. Residents select a program from the list and a house on their block, and are trained and supported by the city as they perform deconstruction. Each block also deconstructs a solar-water collection point, creating a network of sustainable infrastructure that spans the neighborhood. The resultant structure, materials, and proceeds from any salvage or scrap sales are theirs with which to rebuild. Local ownership of redevelopment promotes ongoing stewardship. Dependence on Detroit for utilities, social services, and even transportation is reduced as individual communities are strengthened and reinvigorated.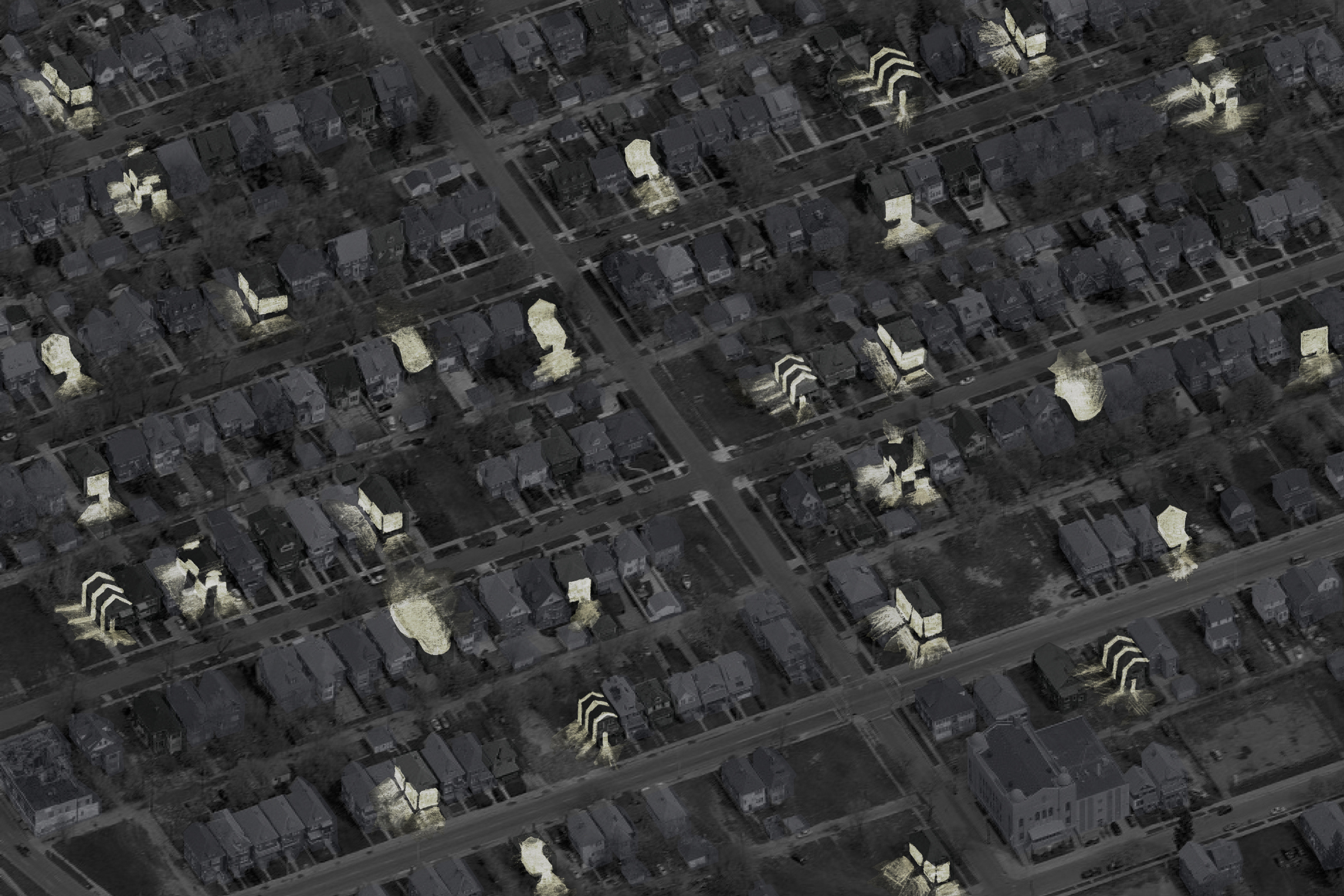 Result
SITE SPECTACLE SEED SPROUT is not ruin porn, and it is not historic preservation. It's a future in which regrowth and healing go hand in hand through a process of decompositional regeneration.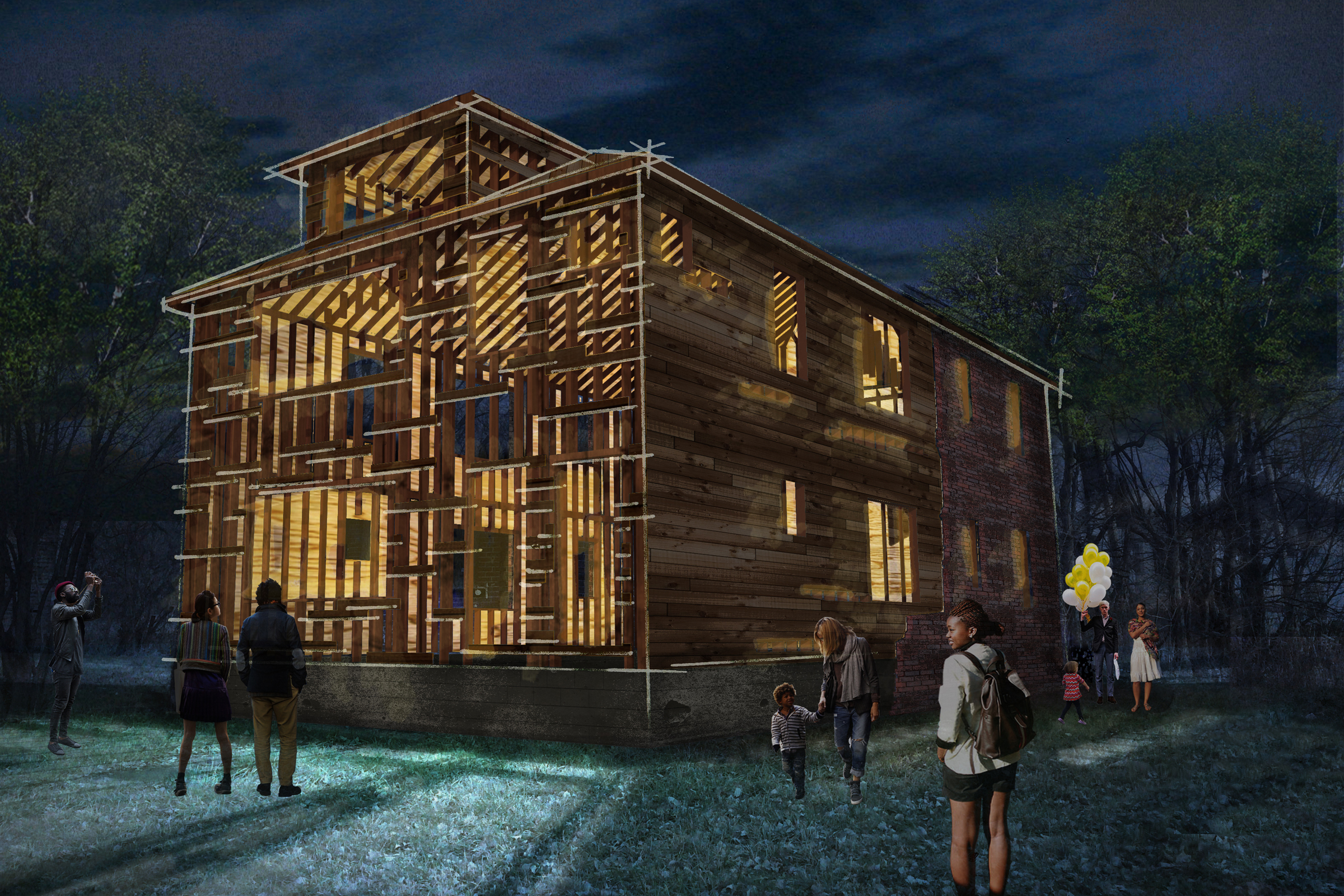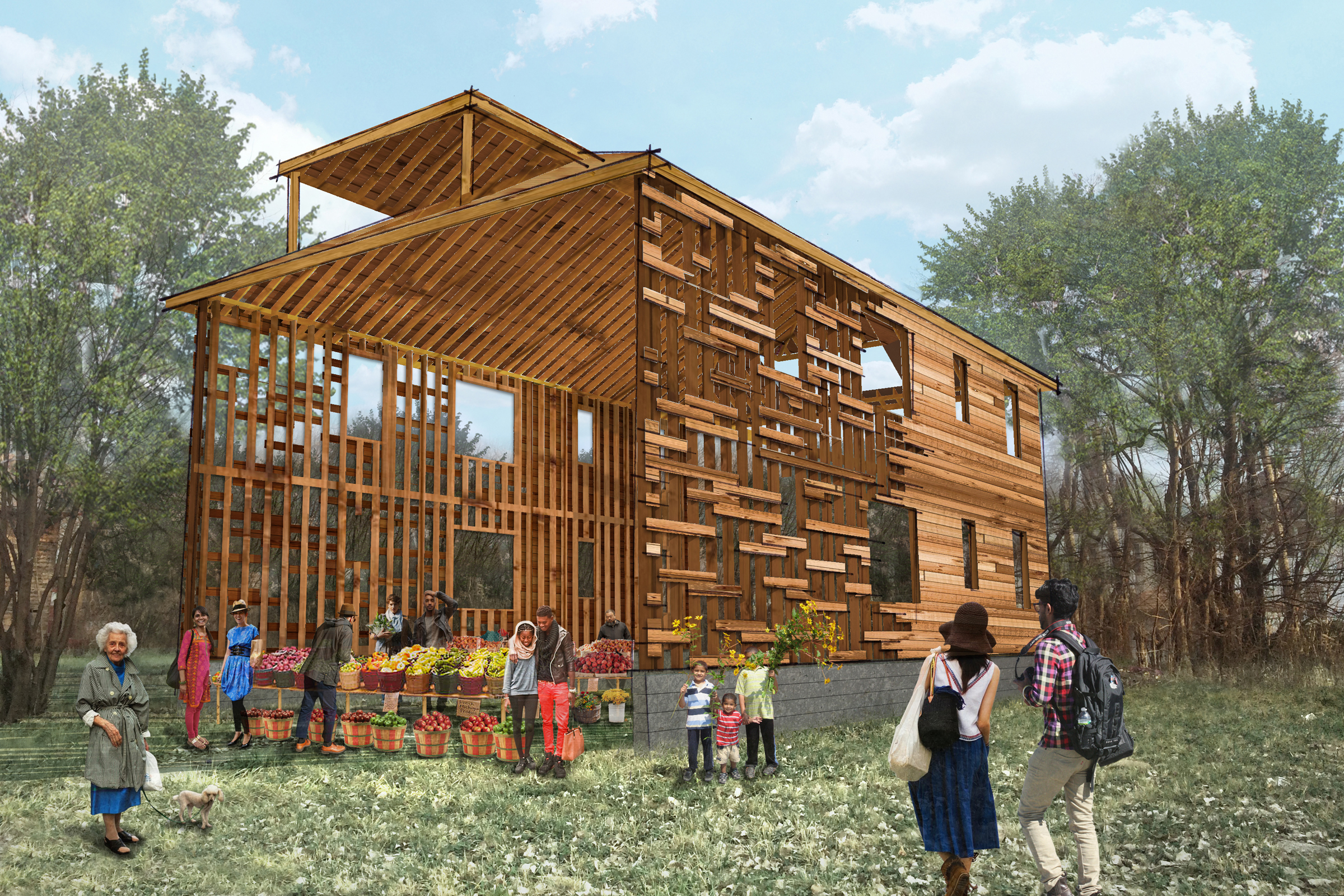 Who Storefront for Art & Architecture "Taking Buildings Down" Competition
Where Detroit, MI
When 2016
How Collaborators: Sy Bodson